TOP 7 THINGS YOU WISHED YOU KNEW BEFORE YOUR WEDDING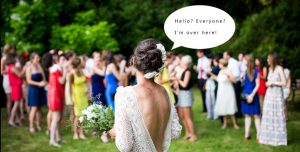 No matter if your theme is a winter wonderland or a southern soiree, the idea of planning for your nuptials is no less intimidating. Between preparing the venue, a guest list, and the band or DJ, a bride can be overwhelmed with all the details, only to wish in hindsight that she had done some things differently. From sidestepping a small regret to an absolute trainwreck, we realize you may need some advice from people like ourselves who are pros at weddings. So take heed and don't forget these top seven things you wished you knew before your wedding.
1. Don't hire your friends to be in charge of the music.
Many friends and family want to help even to the point of being your DJ. But the last thing you want is to feel like burying your face in the wedding cake cause out of touch Uncle Leo is only playing the music he likes. Though music may not seem like the most important aspect of your wedding, it is a pretty big deal. All About You Entertainment offers a variety of professional DJs who can set the mood for your reception by offering anything from jazz to pop.
2. Friends and family shouldn't be your wedding coordinator.
She's your best friend, your Maid of Honor, and your wedding coordinator? Let's rethink this! Just because your college roomie tied the knot four months ago it doesn't mean she's a qualified wedding planner. Just like you, on her special day, she felt irritable, rushed, and jittery. More than likely she overlooked a lot on her day. And honestly, she may overlook a lot on yours too. Everyone needs a little help from their friends, but it's best to let them enjoy your wedding from the sidelines and allow our professional coordinator to handle your big day.
3. There comes a time when you just have to chill out.
You're allowed to be your own personal Olivia Pope everyday, but especially on your wedding day! Many brides are so focused on every tiny little detail that the idea of making it a beautiful time to remember seems a distant afterthought. You are getting married to the love of your life to say the least. That's why it is important to relax the day of and not get caught in the details. Instead, focus on getting that much needed massage or some time alone to decompress.
4. Avoid crafting your own gifts and wedding favors.
Last minute signs, place holders, and gift bags looked easy on Pinterest but when you tried to recreate it, you ended up in overwhelm. And many times, it doesn't come out like you thought it would. Don't become Martha Stewart if you don't have to. The best way to save time and money is to buy in bulk or collect small items during your engagement period: an easy hack that only a wedding coordinator would know.
5. Hire a professional photographer.
Ever heard the saying "Take a picture it will last longer?" Who could really argue with this sentiment when the only thing that will last beyond the marriage are the pictures that you will take. Splurge a little on your videographer and photographers. They're in the memory business. They're the true magicians of your ceremony, capturing the whole day by pointing and shooting. Also, they are pros at bringing out the best in your photos both in taking them and touch up.
6. Hire a florist.
Like DIY gift bags not being the smartest idea for your wedding, neither is being your own florist. As a bride your mind should not be dwelling on lilies vs. tulips. If you want a beautiful display and have no idea where to go, rely on our wedding coordinator who will make sure to get the best out of your vendors. You can't be the radiant bride while arranging the bouquets for your table centerpieces.
7. Avoid the dreaded aisle runner.
Something as simple as an aisle runner could turn your beautiful wedding into a calamity. Aesthetics aside, it's best to stay away from aisle runners. Guests tend to trip over them and the last thing you want to do is arrive at the altar face first. Save yourself the embarrassment and potential lawsuits and opt to not have an aisle runner.
Want to make sure you got all your bases covered? All About You Entertainment is a leader in Savannah GA weddings. We believe your wedding should go off without a hitch. Contact our certified wedding coordinator to find out more.