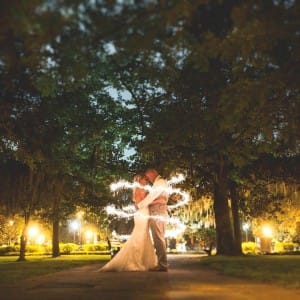 When we first met Danielle to discuss her Savannah wedding day she was living in Savannah but was getting ready to move to …ready for this?  ALASKA!! Her fiancé Jimmy was going to be stationed there! I asked her if she was ready to leave all the warmth of Savannah behind? She said she would surely miss it but was excited for her adventures and new life in Alaska! We kept in touch throughout the year and Danielle would mail me things for her wedding day because It would be to much to bring back on the plane with her.
The day started with a 70% chance of rain for their Forsyth Park wedding at 6 pm. I  was checking my weather app on my phone all day contemplating if we had to go to plan B. It jumped to 90% and then all of a sudden a miracle happened and it dropped to 0% chance of rain!!! My rain dance (that I provided free of charge) worked!
Danielle was able to take the long stroll down the aisle at Forysth park arm in arm with her sweet dad!  Michael Houston played Canon in D on his violin as they walked. In an homage to her Oma and her German heritage she had Rev. Ursula C. Guenzel as their wedding officiant.
Danielle and Jimmy's reception was at the Soho South Café. It was the perfect place for their reception.  Danielle  had so many great details in her wedding reception! Starting with the cutest escort card holder I had ever seen, golden animals displayed the names of their closest friend sand families guiding them to their tables!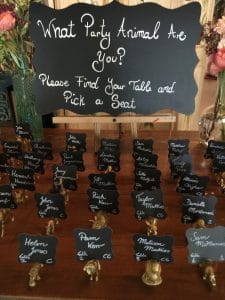 They had the most beautiful cakes, a naked cake from Baker's Pride adorned with flowers by Ivory and Beau.  From KM Cake Designs they had a cake designed in the shape of the helicopter that Jimmy flies.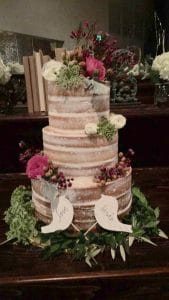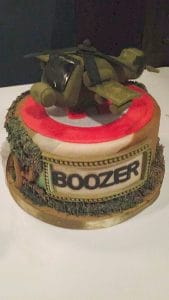 Danielle had farm tables with flowers from Ivory and Beau in small different colored medicine bottles. Custom designed menu cards that they tucked neatly in a napkins with a dainty piece of twine and a sprig of rosemary. Danielle also had an impressive collection of brass candle holders, when we lit the candles it was magical the venue was glowing.
Their grand entrance to get the crowd in the mood was  the party anthem by  The Black Eyed Peas – 'Let's get it Started' and everyone danced into the room!!!
I loved their first dance song, it was one I had never heard before, 'Lime Tree' by Trevor Hall
This group was dancing hard the whole night!  Complete with a panda head (yes, I said a panda head)  that was passed around among their guests! We did not want the night to end.  They jammed to their last song by Lionel Richie – 'All Night Long.' Their friends and family then gathered outside for a fun sparkler exit that had a pedi cab waiting at the end of the line to whisk them away!